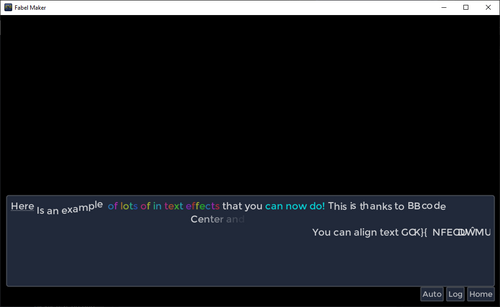 Hello Fablers!
I'm back from my holiday and back onto the grind to pump out more updates to Fable Maker. I'd firstly like to thank the big response I've had from the r/visualnovels subreddit! Thanks to their support I reached over 600 views on itch.io and over 100 downloads! They also gave a lot of good feedback on how to improve Fable Maker, which will be things I'll try to focus on more with coming updates.
Now onto this update. It's not a huge one, but it does add one pretty good feature. BBcode support! BBcode allows you to insert effects and other changes to your text using simple tags. You'll now be able to center text, colour specific parts of a sentence, have jiggly animation to text and a whole lot more. BBcode opens up the door for a lot more cool elements to be added to your stories. I plan on creating more effects to use in your stories, but there are already quite a few to use. Below is an image of some of the effects available.
I haven't added BBcode functionality to Text Adventures yet, but that should be coming very soon. I'm just impatient and like to relase features as soon as I can.
Some other minor improvements in this update include, two more screen effects (wavey2 & double_vision) and a small improvement to the editor. Different types of rows will now have a different colour so you can easily see the structure of your story. When you hover your mouse over a row it will also have a subtle highlight to make it easier to know what row you're looking at.
There is also a new tab in the help guide which explains BBcode in a bit more depth and explains every effect available.
That's all for now, keep on fabling!
CDcruz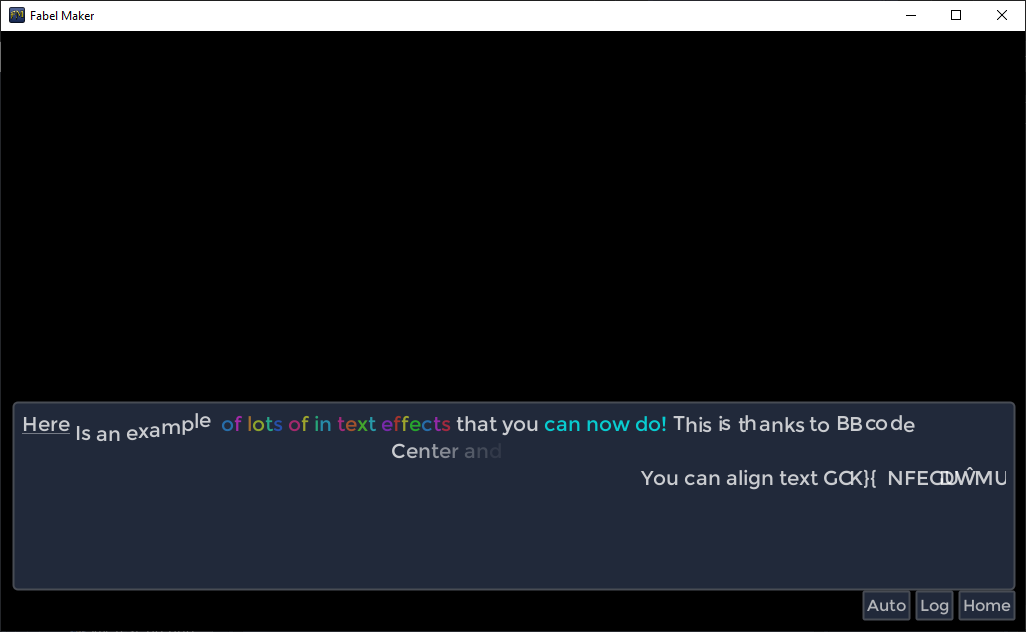 Files
Fable Maker - Win.zip
360 MB
Feb 10, 2020
Fable Maker - Mac.zip
365 MB
Feb 10, 2020
Fable Maker - Linux.zip
362 MB
Feb 10, 2020